Foreign Buyer Ban
Date Posted: January 11, 2023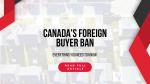 Canada's foreign homebuyer ban went into effect on January 1st, 2023, and will remain in place for two years. Housing affordability remains a concern for Canadians and interest rates are still rising. Those with variable-rate mortgages are paying hundreds more per month and those with fixed-rate mortgages who have yet to renew are terrified of rising interest rates.
The foreign buyer ban is put in place to prevent foreign buyers from buying large amounts of properties to use as investment homes. The ban will increase number of homes on the market and gradually helping to decrease the price of homes. According to the Parliamentary Budget Office, the average cost of a home is 67 per cent more than what the average Canadian household can afford.
Which properties are included in the ban?
The Prohibition on the Purchase of Residential Property by Non-Canadians Act states that all residential properties including detached homes or similar buildings, semi-detached houses, rowhouse units, residential condominium units and other similar premises.
The legislation applies to residential properties located in an area with a total population of at least 100,000 people with at least 50,000 living in its core (known as a census metropolitan area) and an area with a core population of at least 10,000 people (known as a census agglomeration).
Who is exempt from the ban?
There are some exceptions to the ban, including, those in Canada with temporary work permits, refugee claimants and international students who meet certain criteria. The ban does not apply to those who are Canadian citizens or permanent residents, and it also does not apply to non-Canadians looking to rent a residential property in Canada.
Non-Canadians with a spouse or common-law partner who is a Canadian citizen, permanent resident, person registered under the Indian Act or refugee are also exempt.
Those who are in violation of the ban can be fined up to $10,000 and may be required to sell the property they purchased. Those who knowingly assist a non-Canadian with their purchase can also be fined.
Have any questions? Contact your mortgage broker here.